Regular price
$497.00
Sale price
$347.00
Unit price
per
Sale
Sold out
View full details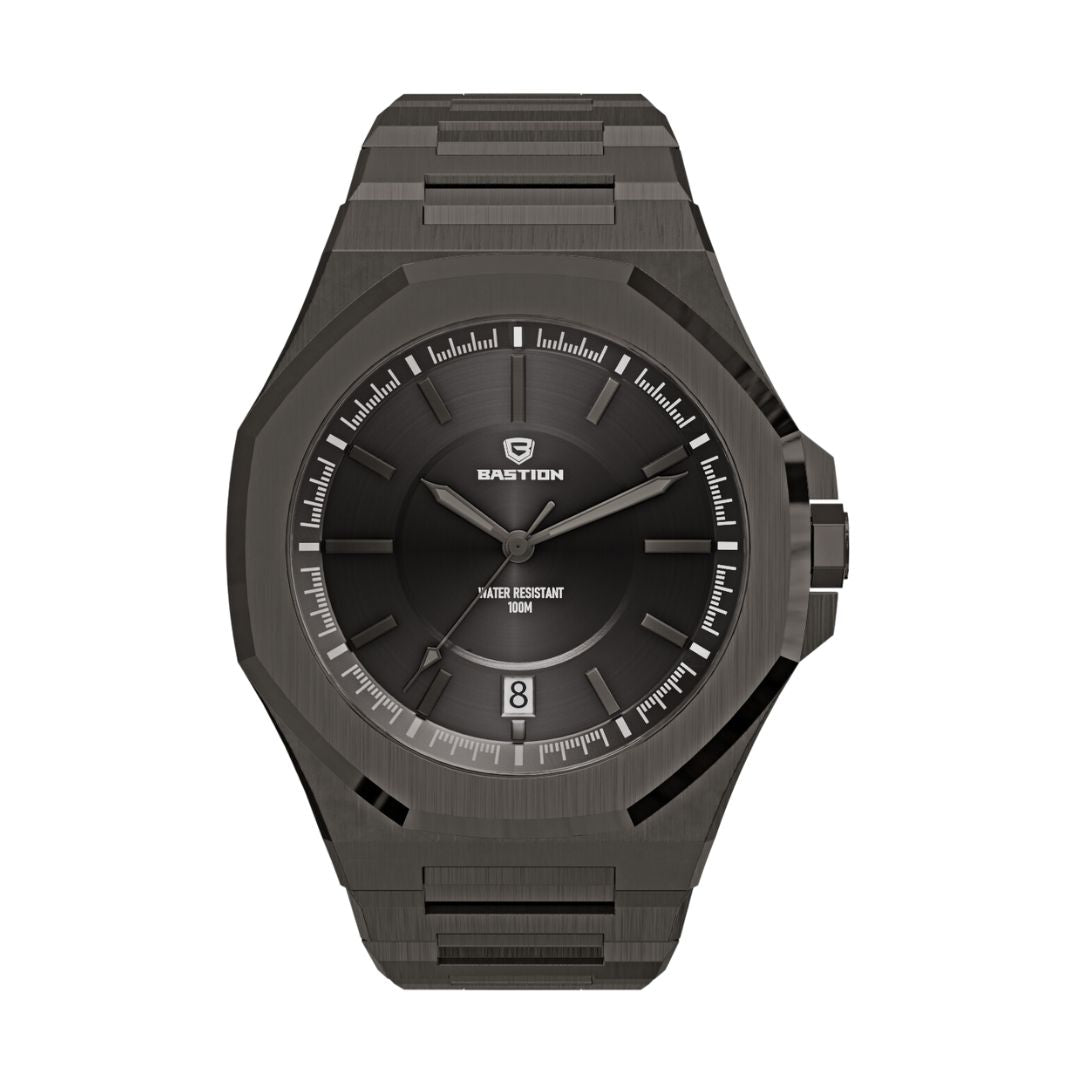 OUR HAPPY CUSTOMERS
Exceptional!!
I expected the watch to be nice from reading the other reviews and also knowing the Bastion quality from being the owner of 3 Bastion pens - but it has surpassed my expectations. It looks quite chunky in the photos but in reality, it isn't - this really is a beautiful timepiece at a bargain price. Get one!!
I am a collector of watches and pens…so this company is perfect for what I'm looking for. I own many pens from Bastion and found them to be the best. When I saw the watch I was a little hesitant but I bought it. It's now my everyday…but is good for special occasions. Of all the watches I have (and a lot…way more expensive) this is my favorite. Bastion did a great job as always.
Fantastic service
The nomad automatic watch is absolutely beautiful. It's pride in my collection. Thanks so much for your great service will be buying again. Best regards, Colin
Words can not describe how beautiful this watch is. I have a fairly thick wrist as a big guy, but it fits in a way that I would call very acceptable. The black dial, hands, the eye catching yet subtle silver band, the way the second hand moves five times a second, creating a surpringly mesmorizing visual experience, and the way the overall design meshes with each element all give this watch a completely unique and high quality feel. I should warn one thing some buyers may dislike is it is pretty heavy. I do not mind this and actually I feel the weight reflects the quality of the watch, but others might not like that. My mother received the package initially and had even made a genuine comment that she thought I had accidentally bought a clock. Keep in mind the box it comes in is rather heavy as well. The unboxing experience is amazing and as one other reviewer said, I'll let you see that for yourself. It really does feel like a royal or posh experience. I've been tempted a couple times now just to put the watch back in the box to unbox it again that's how awesome that felt. The shipping is also very quick, but they do not deliver to P.O. boxes so don't make the same mistake I did and include yours if you have one. The standard shipping is actually one step above FedEx standard shipping. My watch was on my doorstep in less than 72 hours by the time the P.O. box issue was resolved.
I can not recommend the Nomad enough. Pictures don't do it justice, but I'll include one.
I was always a digital watch kida guy...
Then smart watches came along and being a techy my watch game became all about that connected life...
I never looked at mechanical watches, never understood the appeal of what I saw as an outdated form of technology...
All that changed when I saw the Nomad for the first time, could it possibly be that the company responsible for my favourite pen design of all time had made a product that failed to grab my attention?
Nope 😂
I knew the moment I saw this thing that I had to have one! The design is elegant in its simplicoty, showing only the time and date is a refreshing change to the litany of distractions that a smart watch forces on you.
Once it arrived I was amazed by how classy the entire experience seems, from unboxing (which I'm not posting pictures of as you should see it for yourself) to the first time you close the beautifully machined butterfly clasps around your wrist the whole thing feels premium.
The watch itself has a beautifully shimmery dial with hands that seem to straddle the line between traditional and modern. The clear case back provides a fascinating view into the inner workings of this stunning timepiece.
I highly recommend this to any fans of Bastion, watches or just shockingly well designed man bling!
(also worth noting that the watch has a surprise bonus feature that isn't mentioned in the marketing, they have used a varient of the Miyota 8215 that adds hacking to the movement!)